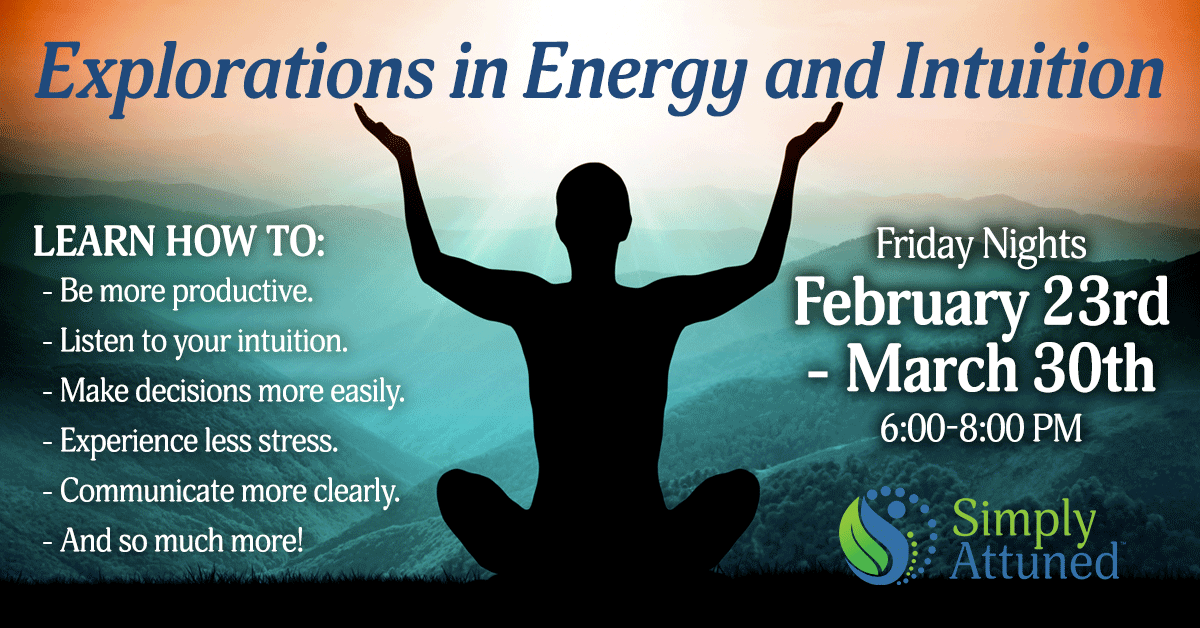 A Transformational, Six-Week Workshop Series
Have you ever felt like you were stuck in a rut, following the same pattern over and over again?
Have you ever had difficulty communicating or connecting with someone?
Have you ever been in a room with someone and felt like you couldn't get far enough away?
Have you ever felt a strong connection to a complete stranger, almost as if you had met them before?
Have you ever been faced with a tough decision and despite knowing what you "should" do, taken a different course of action only to regret it later?
Discover the Answers to These Questions and How to Use Them to Transform Your Life
This is a life-changing, 6-week workshop series that will expand your awareness and your mind through hands-on exercises and experiences.  In this series, we will discuss all of the above questions and many more. You will learn practical applications for energy work that can be used in everyday life situations – including a tip for fighting off meeting room boredom!
Energy work isn't just about healing. Energy impacts how we communicate, how well we connect with others, how we feel, how successful we are, and so much more. When you understand your energy and how to harness your intuition, you can transform your life. It is my passion to share these gifts with you.
You'll discover ways to clear "mental fog" and how to release stuck energy. You'll also learn ways to heal yourself from the inside out. The exercises and experiences you'll have will challenge you at times and may uncover a side of you that you never knew existed. You'll be amazed at what you can do.  
You'll gain a deeper understanding of who you truly are from the inside out. 
What You'll Learn
These are just some of the topics we'll cover.
How our energy effects yourself and others.
How to protect our energy throughout the day.
How to be comfortable in making decisions.
How to be more productive.
How to avoid costly mistakes.
How to better align with your purpose and passion.
How to experience greater peace, joy, and connection in life.
How to experience less stress, depression, anger, frustration, and guilt.
Useful tips and exercises that can be used in everyday situations.
And so much more!
How You'll Benefit From This Workshop Series
Increased sense of self and self-awareness
Improved self-esteem
More joy, love, and compassion for those around you
Better overall health
Decreased stress, depression, anger, frustration, and guilt
Stronger social and personal connections with others
Less social anxiety
A better understanding of your true passion and purpose
Increased focus
Why Group Learning Is So Effective
Group energy work, or any type of group learning, is one of the most effective and fastest ways to learn. Learning is accelerated for all participants because the energy of the group instructor acts like an alpha channel. The energy of the participants then naturally rises to meet the instructor's energy and everyone learns together.
At the end of the program, you will be armed with a solid base for further energy and intuition exploration either on your own or through additional guided exploration.
Who Should Attend
Anyone interested in enhancing their energy awareness should attend this workshop. Whether you're just curious about energy and intuition or a skilled energy worker, you will find value in the exercises and topics presented in this series. Group learning is a great way to accelerate your learning, but it is also effective for enhancing and strengthening the tools you may already use.
What Is Included
12 hours of guided group exploration, spread out over 6 weekly workshops
Practical tips and exercises that can be applied to day-to-day activities and tasks
Homework assignments for individual practice and growth between workshops
Useful handouts to help you retain the information you learn
BONUS: Register for the Full 6-Week Series and You ALSO Get:
Access to a private Facebook group to share and discuss progress or ask Jeneen additional questions
A free, 60-minute private session with Jeneen for follow-up and continued learning
First dibs on the Advanced Series later in 2018, before it becomes available to the public
Explorations in Energy and Intuition Workshop Series Details
The workshop will be held every Friday night from 6:00 – 8:00 pm CST, February 23 – March 30, 2018, at Simply Attuned located downtown Neenah, WI.  Space is limited and is available on a first-come, first-serve basis. 
Workshop Dates – Spring 2018:
Additional information on the topics covered each night is coming soon.
February 23
March 2
March 9
March 16
March 23 – with guest speaker, Barret Hedeen!
March 30
Pricing Options
$295.00 for all 6 weeks when purchased on or before February 13th (Includes BONUS!)
$325.00 for all 6 weeks when purchased after February 13th (Includes BONUS!)
$68.00 per night when purchased individually
Additional information on topics covered each night is coming soon. Join the Simply Attuned (SA) Tribe to be the first to know when updates are available. 
As a member of the SA Tribe, you'll receive all our latest promotions, events, and news before anyone else. 
Subscribe today!